Our zero gravity chair side table, the Svago Side Table, will perfectly compliment your Svago Recliner. With matching wood, you can put this table right next to your recliner, or create an entire relaxation living space by putting it in between two or more Svago recliners. 
*Our 30 day free trial does not apply to the Svago Side Table
Price Match Guarantee
If you find a lower price from an online retailer, tell us and we'll match it.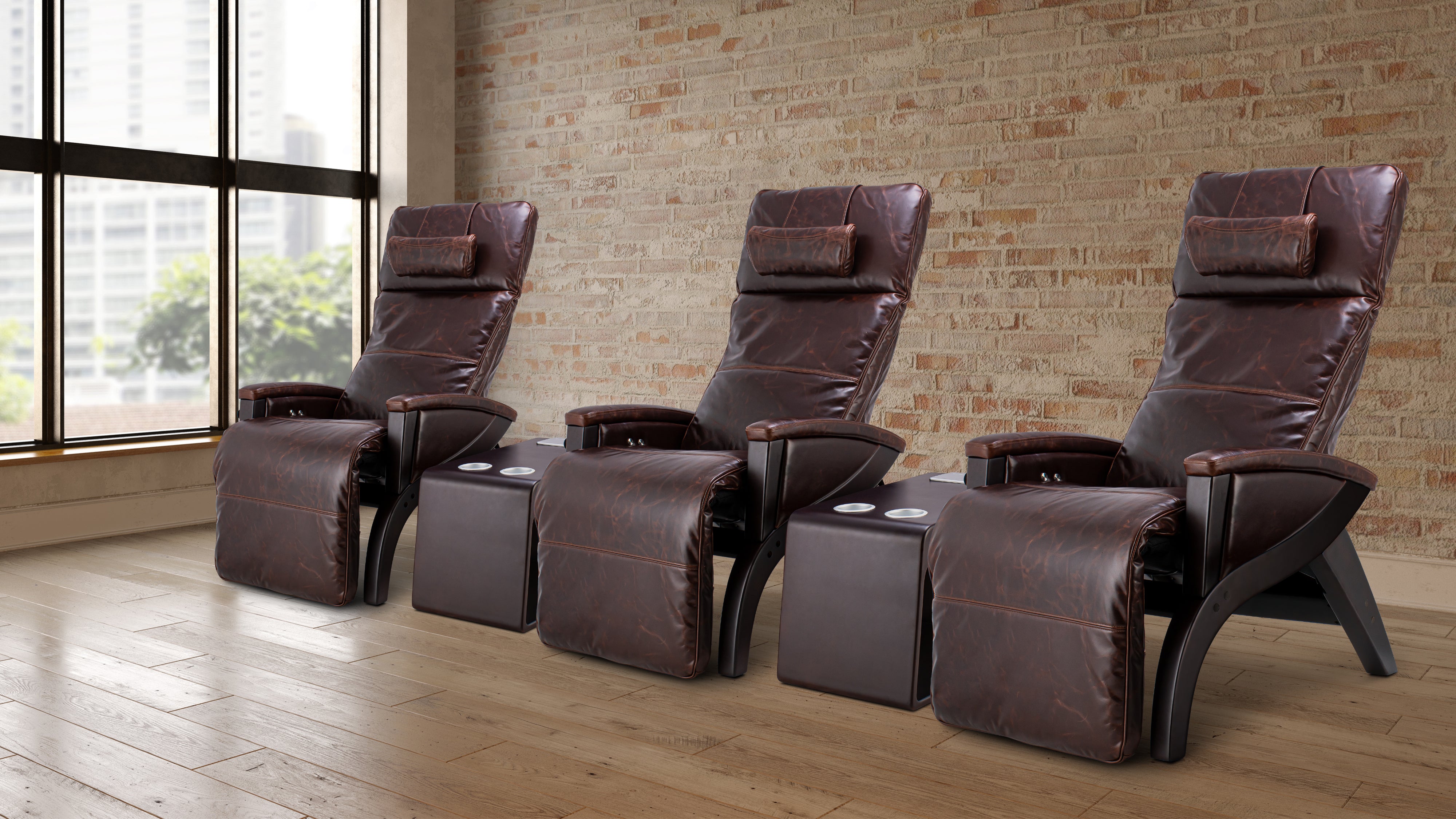 Your chair's perfect companion
Designed so that it can be
situated right next to your Svago recliner, the look and feel of this table coordinates brilliantly with the aesthetic of the recliner. A match made in relaxation heaven.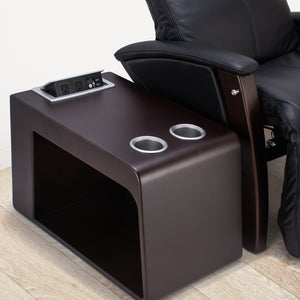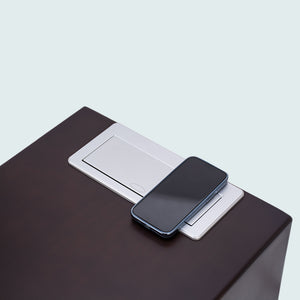 Hand-carved wood
Made with genuine, hand-carved, wood, and finished with veneer that is stained by hand, the Svago Side Table will help to create a modern and comfortable home. 
Hold my drink
The Svago Side Table has two aluminum alloy cup holders that will hold your beverage of choice. These can be removed for easy cleaning.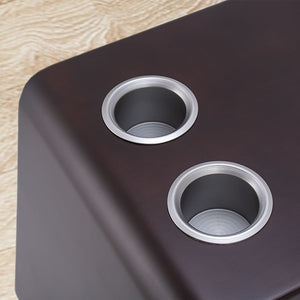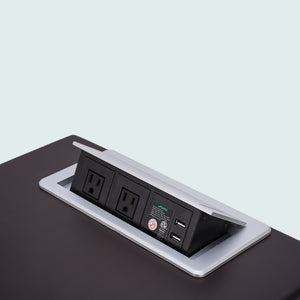 Recharge
You'll have your very own power station with a wireless charging dock, two USB ports, and two power outlets located on the top of the Svago Side Table.
Less cords, less hassle
Specifically designed to bridge two Svago recliners, the Svago Side Table creates a living space with cord consolidation in mind. With an additional two power outlets on the backside of the Svago Side Table, you are able to plug two Svago recliners into one, hidden, location. After you plug your Svago recliner(s) into the back of the table, all you need to do is plug the table's power cord into the wall.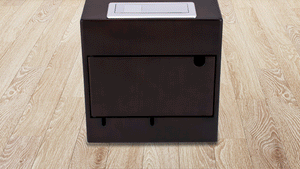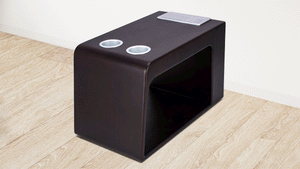 Ready to go
There is no assembly on the Svago Table, so all you need to do is plug it in!
KICK BACK AND RELAX
Kick off your 30-day risk-free trial with free shipping*!
Keeping your Svago chair? AWESOME.
You've got a full year of in-home service, plus two years warranty for parts. 
Not the right fit for you? No worries.
Our Concierge Care team will pick up the chair and issue a full refund.
See... literally risk free! 

*Free shipping is available in the contiguous United States only. 
CONCIERGE CARE
Our Concierge Care Team

Our representatives in Los Angeles can answer questions, help with ordering, or existing orders, connect you with our Service Technicians and more.
Experienced Service Technicians

Our technicians know our zero-gravity recliners inside and out… literally. And they are here to help either via phone, email or they can come to you!
Replacement Parts Guarantee*

In the rare circumstance that your chair might need a part replaced, we've got you covered.
In Home Repair Service

If needed, we'll send our super-hero service technicians to your home to figure out and fix anything.
If we can't repair it, we'll replace it**

If our technicians are unable to fix your chair, we will replace it for free.
Technical Specifications
Material and Construction
Solid Wood
Metal Cup Holders
Measurements & Dimensions
Dimensions (L x W x H): 27.2" x 15.9" x 16.5"
Distance From Wall: 15.7"
Net Weight: 34.6 lbs
Power and Safety
Power Voltage: 110 - 220V
Rated Frequency: 60Hz
Power Supply Wiring Length: 75"
Environmental Temperature: 50°F - 104°F
Storage Temperature: 68°F - 150°F
Power Ports (top): 2
Power Ports (bottom): 2
USB Charging Ports: 2
Shipping
Packaging & Box
Dimensions (L x W x H): 30.3" x 19.1" x 20.1"
Gross Weight: 41.4 lbs
Customer Reviews
At first I was attracted to this chair because of the style, which is great. I wanted a recliner type chair, but not typical recliner look. Chair is comfortable, stylish-love the heat, but massage is not a big help. Loved it so much I bought one for my spouse!
Sitting in this chair and being massaged is like driving a Mercedes, but in the comfort of a Cadillac! 
Love this chair. Bought this chair to relieve husband's back pain. He loves it. 
Complete lumbar relief! Firstly, the Napa leather is so supple. The massage features are very different from their predecessors with the older, and sometimes painful roller. It's a very unique and effective massage. The heat feature completes the deep tissue healing. I'm thrilled with my purchase and had to save up for it, but the healing properties of the complete zero G relief were worth it. Fantastic customer service and prompt delivery to my living room. I highly recommend this chair!!