Find the Best Zero Gravity Chair for You
There is no 'best zero gravity chair' at Svago -- all of our chairs are just as healing, but include different features and price points that fit your specific needs.
The Newton is our higher-end choice, with three motors, full-body memory foam, royal top grain leather, and air cell massage, a feature that feels as if 15 hands are massaging you at once. Your vacation is only a button away.
The ZGR is our classic zero gravity chair, with two motors, neck and lumbar memory foam with high-density poly-foam, faux leather and high-frequency vibration massage, to loosen and soothe tense or aching muscles.
The Lite is our entry-level chair that packs all the punch of zero-gravity chair power, but with a lower price point. It includes one motor, high-density poly-foam, faux leather and high-frequency vibration massage, to loosen and soothe tense or aching muscles.
The Swivel is luxury, innovation and dashing good looks are some of the ways to best describe the new Svago Swivel, equipped with intelligent design and a 280-degree swivel feature no other chair has.
We designed four unique zero gravity massage chairs to fit your specific needs, style and budget. Discover the best zero gravity massage chair to buy that calls to you and your home.
Compare Zero Gravity Recliners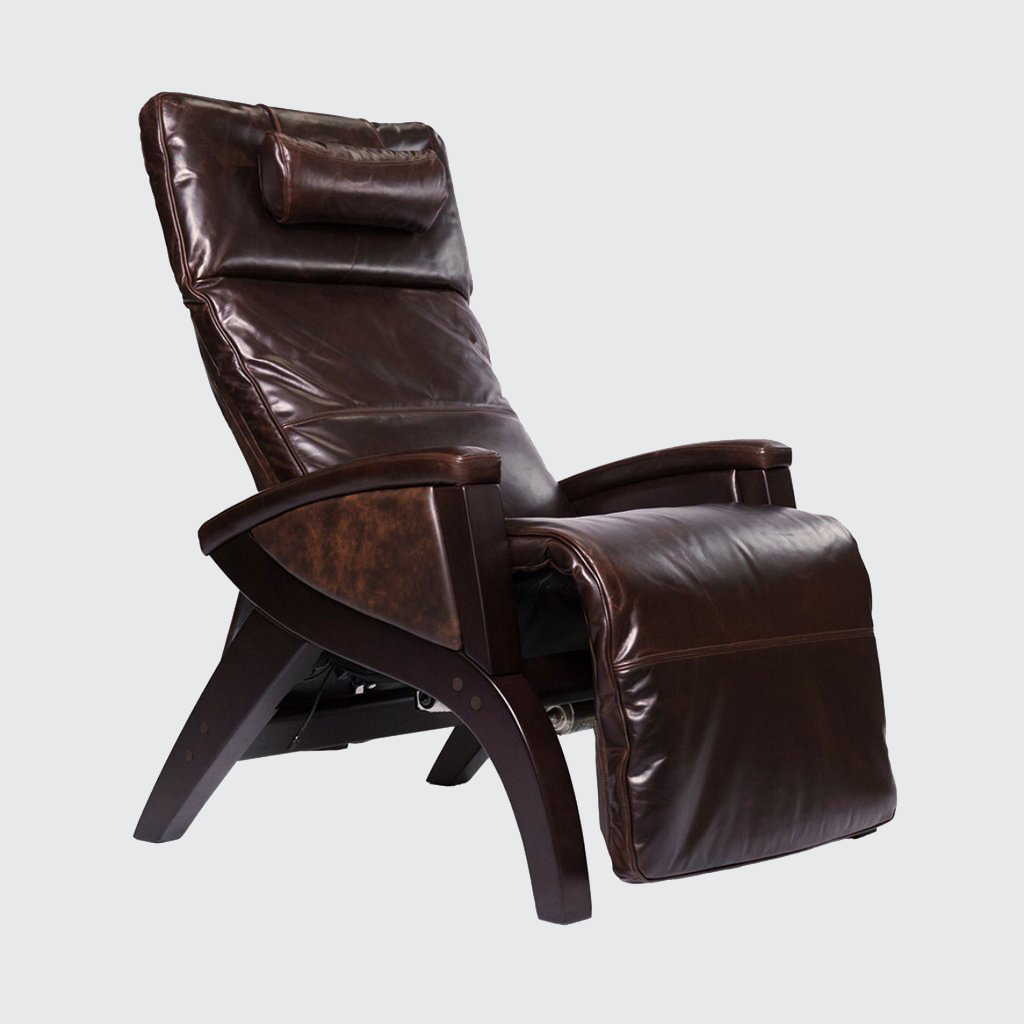 The Newton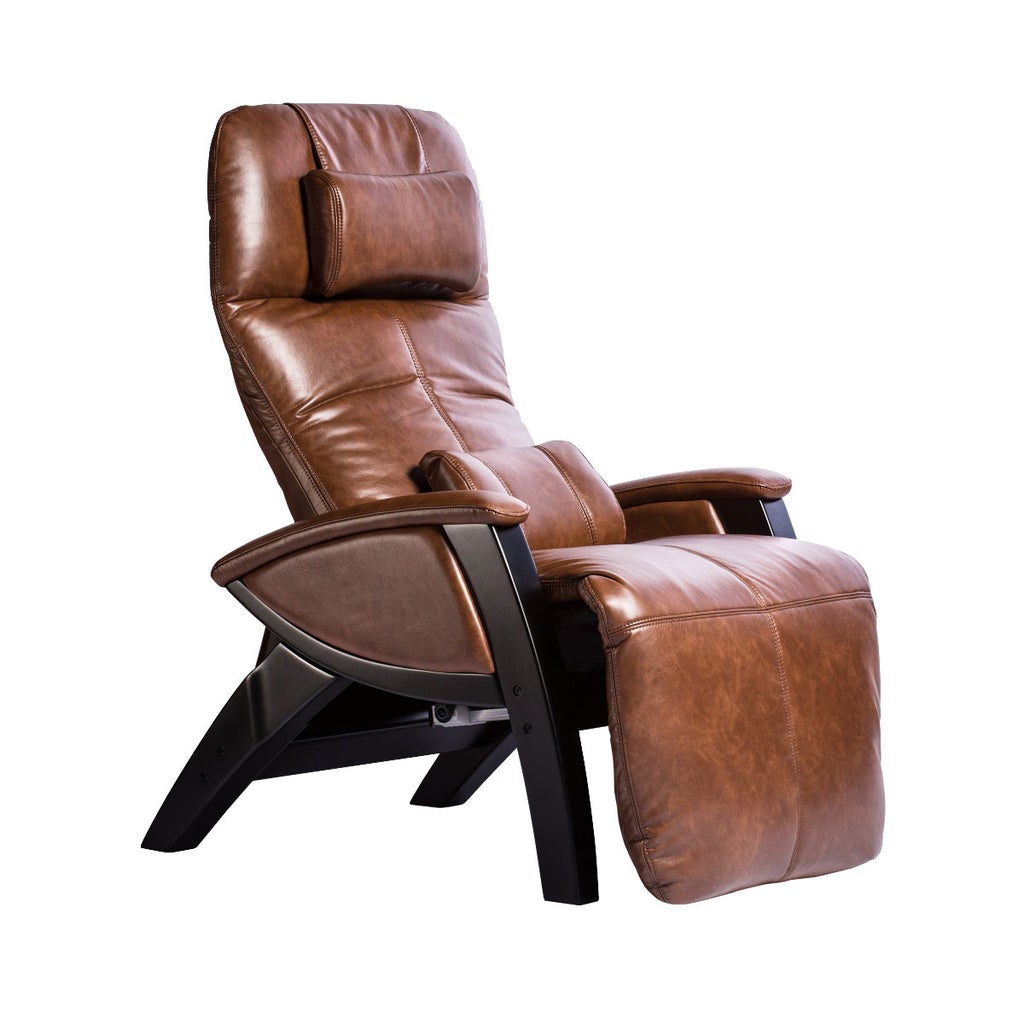 The ZGR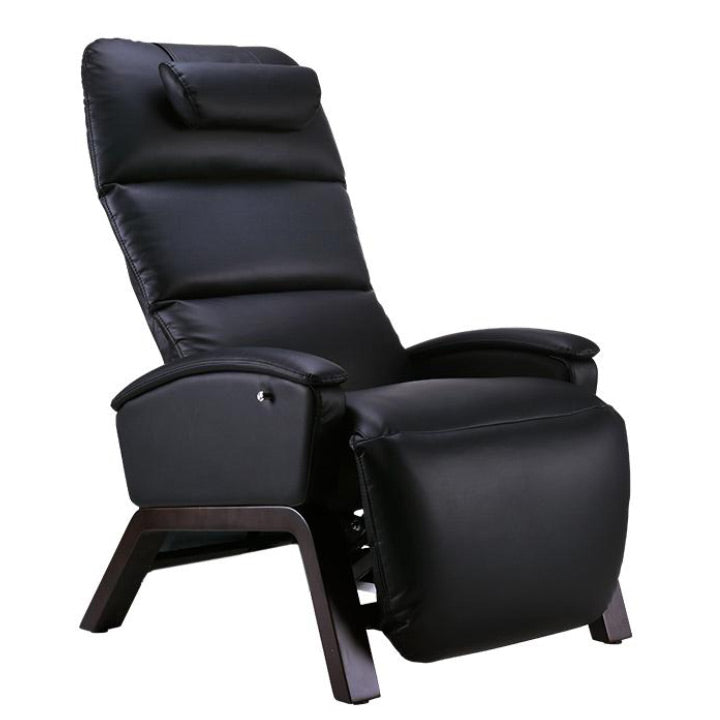 The Lite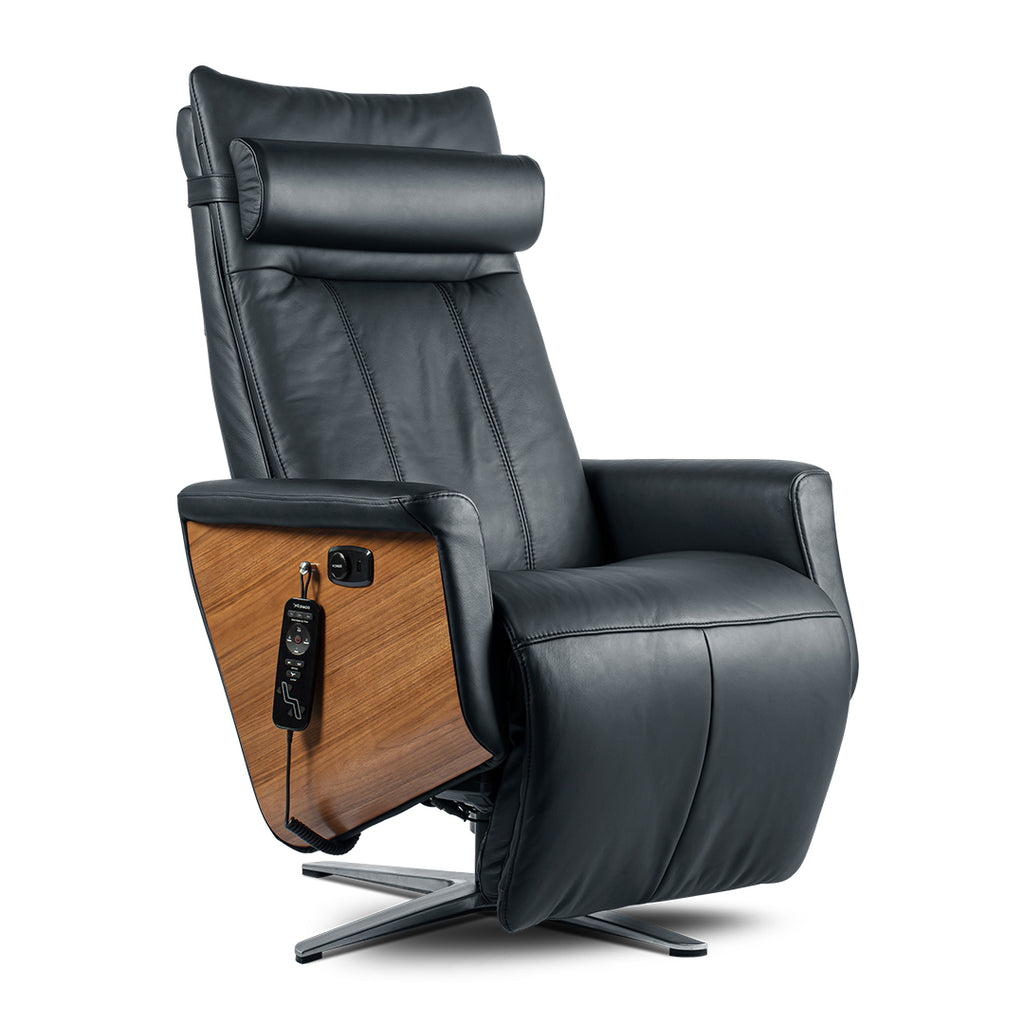 The Swivel
Weight Capacity
400 LBS
325 LBS
275 LBS
325 LBS
Our weight capacity is so significant because at the core, each Svago recliner is built to NASA's standards of engineering utilizing the strongest materials and construction. Feel confident knowing your Svago is strongly supporting you and your health.
Motors
3 Motors
2 Motors
1 Motor
3 Motors
The Newton and The Swivel have 3 motors providing the most advanced and powerful zero gravity experience in the world. One motor for the Head Rest & Lumbar, one for the Back Rest, and one for the Seat and Foot Rest. The ZGR has 2 motors, one for the Back Rest, and one for the Foot Rest. And the Lite has one motor for the Back and Foot Rest. 
Cushioning
Full-Body
Memory Foam
Neck & Lumbar
Memory Foam
High-Density
Poly Foam
High-Density
Poly Foam
The cushioning layer of The Newton is 100% memory foam, providing instant and constant support for every part of the body that is in contact with your Svago. This full-body support adds a vital component to the zero gravity experience. The ZGR is cushioned with memory foam for the neck and lumbar areas, and with high-density poly-foam for the rest. The Lite is cushioned wholly with high-density poly-foam. All of our cushioning materials are carefully selected for quality, performance and longevity.
Upholstery
Royal Top Grain Leather
Synthetic Hyde
Synthetic Hyde
Royal Top Grain Leather
The Newton and The Swivel are appointed in the finest, hand-selected Royal Top Grain Leather that starts buttery-soft and only gets more beautiful over time. The ZGR and The Lite are appointed in soft "vegan" synthetic hyde for those who prefer not to use animal products.
Massage Features
Air Cell Massage
Vibration
Vibration
Air Cell Massage
The Newton and The Swivel feature state-of-the-art Air Cell Massage. This form of massage is like having your entire back massaged by 15 hands. Our Relax and Stretch massage program utilizes 15 air cells to dramatically enhance your zero gravity experience. The ZGR and The Lite both employ high-frequency vibration massage to loosen and sooth tense or aching muscles.
Floor Space
Upright
Width - 31"
Height - 47.5"
Upright
Width - 30"
Height - 46"
Upright
Width - 29"
Height - 45"
Upright
Width - 33"
Height - 49"
The Newton, The Swivel, and The ZGR are larger to provide the ultimate zero gravity experience, while The Lite is slightly smaller to fit in tighter spaces. 
Reclined all of our chairs are 63"L, which is an important detail when you're deciding where to put your recliner because you'll need 18-20 more inches in front of and behind your Svago.
Heat Therapy
Lumbar-Area
Heat Therapy
Lumbar-Area
Heat Therapy
Lumbar-Area
Heat Therapy
Low Back
Heat Therapy
Heat is healing. We offer Lumbar and Seat Heat Therapy in The Newton and The Swivel, which soothes, relaxes, de-stresses muscles and joints, and helps the body heal more efficiently. The ZGR and The Lite have Lumbar-Area Heat Therapy which targets the back's most common trouble spot.
Headrest
Memory Foam Power Headrest
w/ Adjustable Pillow
Manual Headrest
w/ Adjustable Pillow
Manual Headrest
w/ Adjustable Pillow
Adjustable Pillow
Each of our recliners offers a different option for your headrest. The most advanced is The Newton with its remote controlled memory foam headrest, allowing you to adjust your head and neck exactly how you want it without having to get up or reach back. The remote will do it for you. The ZGR's manually adjustable pillow offers the supportive benefits of memory foam for your head and neck, which can often carry a lot of tension. Having full support from your pillow makes a big difference! The Swivel and The Lite have a manually adjustable poly-foam pillow that allows you to remove and adjust the pillow however you like for optimal comfort and support.
Lumbar Support
Remote Control
Adjustable Air Cell
Lumbar Support
Removable
Lumbar Pillow
--
Remote Control
Adjustable Air Cell
Lumbar Support
The Newton and The Swivel offer the most supportive and customizable lumbar support, which can be mission critical for anyone who has issues with the low back. The ZGR comes with a supportive lumbar pillow that can be manually adjusted or removed to suit your needs for support.
Footrest
Remote Controlled Footrest
Remote Controlled Footrest
Pre-Set Footrest
Remote Controlled Footrest
Both The Newton and The ZGR have remote controlled footrests. The Swivel also has a multiple adjustment Independent remote controlled footrest. On these three chairs, You can adjust the angle of the footrest to the exact position that feels best. This is especially helpful for shorter or taller users. 
Metal Base
--
--
--
Stainless Steel Heavy Duty Metal Base
Float on air with a 280-degree swivel unlike any other massage chair. With a heavy-duty base that brings you from 0 to 180 degrees at the touch of a button.
Solid Wood Base



--
Each solid wood base is crafted by artisans. The wood is sustainably-sourced and hand-selected, then it is hand-carved by expert woodworkers, and hand-stained for depth. Just look at the wood in different lights and you'll see how special and unique it truly is!
Battery Backup

--
--
--
One amazing feature on The Newton is Battery Backup. This means if the power goes out while you're reclined, the battery gets you back to upright. This is really important if you have mild to serious back health issues. 
Smart Touch Buttons

--
--
Smart Dial
Ergonomic Smart Touch buttons allow for unlimited operation without any wear.
USB Charging Station
--
--
--

Fast USB charging gives you an on-the-go break to recharge anytime.
Smart Wake-up Programs


--

A side-effect of relieving gravity's weight from your body is total relaxation. The Newton, The Swivel and The ZGR offer Smart Wake-Up Programs so you can make sure you don't float away into La La Land for any longer than you want. 
Custom Memory Settings


--

While many couples end up getting two Svago recliners so they can relax and rejuvenate together (plus watch TV, read, watch the sun go down & anything else you'd do in a recliner!), The Newton, The Swivel, and The ZGR all have two Custom Memory Settings, so your preferences are saved. This means immediate relaxation with no time spent making adjustments for your maximum comfort. Bonus: If you each have a Svago, you can do one setting for zero gravity and another for kicking back and relaxing while you read or watch TV. 
One Touch Zero Gravity




Feel weightless with the touch of a button.
Remote Control




You are in control of your comfort with our easy-to-navigate, full-featured, hand-held remotes. Just the right size and button spacing to be easy to find, easy to put away, and easy to navigate. And we're pretty sure you'll spend so much time in your Svago that you'll memorize those buttons and not even have to look before you know it.
Elongated Armrests




This feature is down here at the bottom of the list, but it's actually really special. Many other brands neglect the importance of the armrests in helping to align and support your body in a way that allows maximum decompression of your spinal column and surrounding muscle groups. Our armrests have been specially engineered to keep your arms in the optimal position. And when you go from upright to zero gravity the armrests continue to keep your supported and comfortable. Ever notice how in many recliners you have to do a massive readjustment of your arms when you put the recliner back? This won't happen in your Svago, and this is vitally important for people who are experiencing acute back pain. We've got your arms... and your back!
One-Touch Power Off




We are all about ease and comfort. With our One-Touch Power Off button you can go from any position to upright. No need to return yourself to upright before powering off, we'll take care of that!
KICK BACK AND RELAX
Kick off your 30-day risk-free trial with free shipping*!
Keeping your Svago chair? AWESOME.
You've got a full year of in-home service, plus two years warranty for parts. 
Not the right fit for you? No worries.
Our Concierge Care team will pick up the chair and issue a full refund.
See... literally risk free! 

*Free shipping is available in the contiguous United States only. 
HEALTH & WELLNESS meet LUXURY & DESIGN
Svago has designed the ultimate health and wellness solution to relieve pain, speed healing, slow aging, and restore balance by getting you out from under the weight of gravity…
...and in to the lap of luxury.
---
CONCIERGE CARE
Our Concierge Care Team

Our representatives in Los Angeles can answer questions, help with ordering, or existing orders, connect you with our Service Technicians and more.
Experienced Service Technicians

Our technicians know our zero-gravity recliners inside and out… literally. And they are here to help either via phone, email or they can come to you!
Replacement Parts Guarantee*

In the rare circumstance that your chair might need a part replaced, we've got you covered.
In Home Repair Service

If needed, we'll send our super-hero service technicians to your home to figure out and fix anything.
If we can't repair it, we'll replace it**

If our technicians are unable to fix your chair, we will replace it for free.
---
FAQs
What is the weight capacity on a Svago chair?
Our Svago chairs can safely hold up to 300 LBS.
What is the warranty on Svago chairs?
Our Svago recliners come with a 1 year in home service and 2 years parts warranty. Learn more about our warranty here. Warranty
What shipping method is used?
Shipping methods vary based on your preferred delivery method. We ship curbside and also provide you with the option of in home delivery and assembly. Learn about our shipping options here. Shipping
Can I request a specific date and time for my delivery?
We cannot guarantee a specific date and time for delivery. Please plan on 10-14 days for your chair to arrive. For "in-home delivery and assembly", the delivery service will work with you to set up a day and time.
Is the chair already assembled upon arrival to my house? Is assembly easy?
Your Svago recliner will not come fully assembled, but is very easy to put together and requires no tools. Please see the assembly video here.
Where is Svago based?
Svago's marketing, sales, design team, customer service, and executive offices are based in Los Angeles, California.
Where are Svago chairs made?
Our Svago chairs are made in our state of the art factory in Xiamen, China.